Internees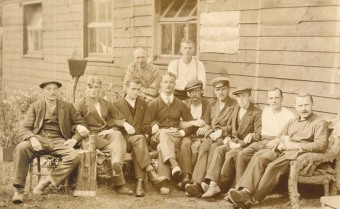 Photo Credit: Mannin Collections Archive
The internees were ordinary men who, by accident of birth, found their lives turned upside down. For some depression, or "barbed wire disease", would drag them down as they remained prisoner within a barbed wire compound of about 100 yards square whilst the world went to war, missing their families and their homes in their own "no-mans-land". For others, this period away from their normal life did provide new opportunities, led to new skills being learned which would change their lives or indeed the lives of others.
Over the coming months, and indeed years, we will be collating the stories and fragmentary information received to date about aliens interned in the British Isles, held both on and off the Isle of Man, into our Database Archive. At present this remains offline as it is under constant development and is ever growing, however we are always happy to search it on a one to one basis. We should also love to hear from you if you have a story of an internee to add to our archive so these can be retold to future generations. Contact us by email at info@knockaloe.im
At the moment we are constantly researching internee stories and are constantly adding to our archives. We have a large amount of research currently in progress. We do not charge at all for the work that we do, however please note that this process can take some time.
To mark the centenary on the day the first internees arrived at Knockaloe Camp, 17 November 2014, we moved the first of our internees, Karl Fahlbusch onto our website.
Below is his story, together with some of the other occasional stories about internees which we feature on our Facebook page. To learn their stories, click on the photographs below. Do contact us if you have anything to add to their stories, or if you have a new story to add or which you would like us to help in researching.
Contact us by email at info@knockaloe.im