Visitor Centre
100 years ago, on 17 November 1914, over 23,000 internees, such as Josef Pilates, together with their guards, including Archibald Knox, started moving into Knockaloe Farm, Patrick Village.
A registered charity has been set up by the community of Patrick Village to use the old Patrick Schoolrooms, located at the entrance to Knockaloe Farm, to develop an on-site Visitors Centre and web based Archive to bring this very human aspect of Patrick Village and Island history to life.
The project launched of our introductory website, exactly 100 years after the arrival of the first internees into Knockaloe Camp.
The Centre for WW1 Internment is open
We are delighted to announce the the Centre for WW1 Internment opened on 10th May 2019
Opening times:
10th May 2019 - 28th September 2019
Wednesday - Saturday
10am - 5pm
The Charity would love to hear stories from descendants of Knockaloe internees or guards. If you are a Knockaloe descendant please contact our research team before visiting on info@knockaloe.im to ensure that advance research can be carried out prior to a visit and that Trustee and lead researcher, Alison Jones, can be there personally to meet you during your visit and find out what is available about your family story.
The Research Room is open to descendants by appointment all year round, please E-mail info@knockaloe.im for further information.
Entry Fees:
Individuals : Entry to the Centre is FREE however we very much welcome DONATIONS which allow us to cover our ongoing running costs of the Centre, and will allow us to continue to develop it.
Groups : For commercially organised groups where visitors are paying an overall fee for their trip and/or guide, there is a charge of £4 per person, payable by the tour operator/coach driver/guide before or upon arrival. A discount of 10% is offered for parties of 12 or more. For further inforamtion please E-mail info@knockaloe.im
Refreshments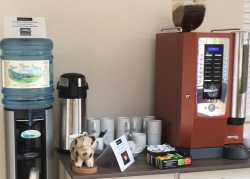 Please help yourself to a delicious cup of coffee, tea or water straight from Green Mann Spring.
Suggestion donation of £1 to cover costs.
Address:
The Centre for WW1 Internment, Patrick Old School Rooms, Patrick Corner, Patrick Village, Isle of Man, IM5 3AL
Getting there:
The Centre for WW1 Internment is located in on the junction of the A27 and Patrick Road in Patrick Village on the west of the Island. From Peel follow signs to Glen Maye (A27), from St Johns follow signs to Castletown (A3) then signs to Patrick/Glen Maye (A30). For the location on Google Maps please click here
There is a car park directly in front of the Visitor Centre, howeve, please be cautious as the entrance is quite tight.