The Visitors Centre
The Centre for WW1 Internment Opening 10th May 2019
We are delighted to announce the the Centre for WW1 Internment will be opening to the public at 10am on Friday 10th May.
Opening times:
10th May 2019 - 28th September 2019
Wednesday - Saturday
10am - 5pm
Any descendants of Knockaloe Internees wishing to visit outside of these times can do so by appointment by E-mailing info@knockaloe.im
There is no fee to view the exhibition, however all donations are gratefully received and go towards the upkeep and maintenance of the building and future research, there is a donations box in within the main exhibition space.
Address:
The Centre for WW1 Internment, Patrick Old School Rooms, Patrick Corner, Patrick Village, Isle of Man, IM5 3AL
Getting there:
The Centre for WW1 Internment is located in on the junction of the A27 and Patrick Road in Patrick Village on the west of the Island. From Peel follow signs to Glen Maye (A27), from St Johns follow signs to Castletown (A3) then signs to Patrick/Glen Maye (A30). For the location on Google Maps please click here
There is a car park directly in front of the Visitor Centre, howeve, please be cautious as the entrance is quite tight.
The Centre for WW1 Internment
This will link the human stories and imagery with the camp location itself in an imaginative and interactive way to engage
visitors of all ages. It will help visitors to visualise the camp, understand what life would have been like at the camp and the
village, and understand its impact on the internees and their families, the guards, the villagers, and the Island, as well as providing descendants with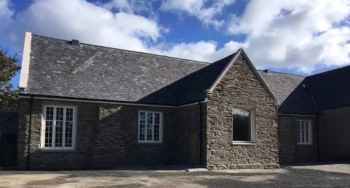 assistance in finding out more about their own internee, guard or village family member and add their story to our archive for future generations.
We are delighted that the work on the site is now complete. The Village Workshop team (pictured on the video below) have taken down the crumbling, damp kitchen, toilet and boilerhouse extension at the back of Patrick Old School largely built on the old school wall, and the replacement extension is now up to roof level. Every stone from the old school wall has been reclaimed and will be rebuilt as the outer wall of the new dry and draft proof extension.
https://www.facebook.com/knockaloeinternmentcampiom/videos/890656477760382/