31st July 2020 - 2nd August 2020
The Knockaloe Centre for WW1 Internment is delighted to be bringing the wonderful original Knockaloe engine, Caledonia, back to Knockaloe and on display at the former Knockaloe Internment Camp as she visits the site where she worked so hard helping to feed and fuel the camp 100 years ago.
Please note that in light of the current coronavirus pandemic, sadly this event as described has been cancelled.
2020 Festival goes online: After the huge success of the Closed Lines Virtual Bus Tour during Easter 2020 by Isle of Man Heritage Railway Volunteers - Steam Railyway, Isle of Man Transport and the Isle of Man Heritage Railway Volunteers are bringing the 2020 Festival online. See their Facebook pages for more detail. We are also very much hoping we can bring Caledonia to Knockaloe as part of the 2021 Festival scheduled for 28th July to 1 August 2021!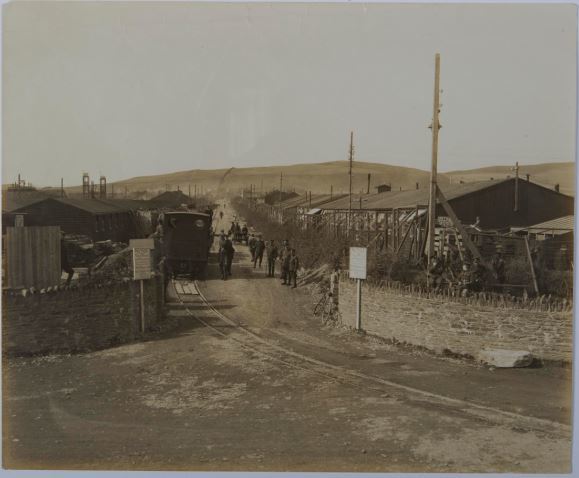 No 15, Caledonia, at the entrance to Knockaloe Camp. This year she will be returning, not in steam but on display, to recreate this image of her on the line up the main driveway through the Camp. This image also shows the notice boards at the entrance to the camp forbidding access to the public and warning them not to loiter near the camp. (Image Courtesy of MNH PG/5291/9a).
The line was built in 1915 to provide transportation of goods to the camp. It was subsequently fully dismantled within 10 years of opening. The Camp Railway is explored in more detail on https://www.knockaloe.im/page_391035.html
This unique 2020 spectacle will offer a wealth of photographic opportunities and the opportunity to learn more about the history of the camp that held 23,000 internees and 2,000 guards at any one time during WWI.
Caledonia being at Knockaloe is funded by The Knockaloe Charitable Trust and forms part of The Manx Heritage Transport Festival which runs from Wednesday 29th July until Sunday 2nd August, which has a fabulous jam packed program of events to date!
We are delighted to be part of this year's festival, with Caledonia going on tour, firstly to Laxey Station where, before her time at Knockaloe she had been involved in building the Snaefell Mountain Railway line which celebrates its 125th birthday this year.
She will then be joining us on Saturday 1 July and Sunday 2 August 2020 when we shall be open to the public both days from 10 am until 5 pm, admission is free to independent visitors but donations are very welcome. We shall also be having a special ticketed preview evening on 31 July 2020.
Caledonia forms part of the five days of wonderful Manx Heritage Transport Festival events which includes bus excursions, shed and workshop tours, and the hugely popular Motorman Taster lessons on the Manx Electric Railway! Take advantage of the many unique photographic opportunities throughout the festival, and don't forget the annual Vintage Transport Running Day at the Jurby Transport Museum on the last day.
The full itinerary can be viewed online by following this link: https://www.gov.im/media/1368404/2020_transport_festival_dl-leaflet-web.pdf
Caledonia at Knockaloe Event Summary:
Friday Evening 31 July 2020
A special champagne preview and private photographic opportunity, with talks and refreshments as we welcome Caledonia back to Knockaloe.
Details and tickets will be released via our facebook page shortly.
Saturday 1 August 2020
Manx Heritage Transport Festival's Bus Tour of Closed Lines Featuring Caledonia at Knockaloe
The legendary bus tour of closed lines returns incorporating The Knockaloe Camp Line, Foxdale Heritage Centre and the former Peel Station.
The Festival's bus leaves Douglas Railway Station at 10:00 with a commentary along the way. Michael Starkey will display a unique selection of artwork and unseen photographs at the Foxdale Heritage Centre.
Caledonia will be on display at the former Knockaloe Camp and this will be the first time the locomotive has visited the site since she was here 100 years ago!
Following lunch the tour traces the route of the Manx Northern Railway to Ramsey, stopping at the Wildlife Park for a chance to ride on the Orchid Line Miniature Railway.
Guides from the Heritage Railway Volunteers Group will accompany the tour.
Meet at Douglas Railway Station at 09:45, returns by 18:30. This tour includes several walking sections that will not be suitable to those with limited mobility. A packed lunch is advisable. These can be pre-ordered from The Tickethall by calling 01624 627888. £6 including drink (pay on the day). £25.
To book online visit www.rail.im or by following this link: https://iomrailways.ticketsolve.com/shows?fbclid=IwAR33WHz18e55SjNQmNInAdVqyye3NfItltV4xy6rSxAuuPieWrkP4Go-71g
Or call the Welcome Centre 01624 662525
The Visitors Centre will be open throughout the day as usual from 10am until 5pm, with Caledonia proudly on display as part of our walk up the main Knockaloe Drive. Donations welcome.
Caledonia being at Knockaloe is funded by The Knockaloe Charitable Trust www.knockaloe.im Donations welcomed. Registered charity number 1272.
Sunday 2 August 2020
The Visitors Centre will be opening specially for Caledonia on display from 10am until 5pm. Either join us independently or Manx Heritage Transport Festival have arranged some special buses for visitors.
The buses will operate from Peel Town Hall via Knockaloe and St Johns with a return to Peel. This will operate on the hour with buses from Peel Town Hall at 10:00, 11:00, 13:00, 14:00 & 15:00.
Free event for all to attend. Caledonia being at Knockaloe is funded by The Knockaloe Charitable Trust www.knockaloe.im Donations welcomed. Registered charity number 1272.
For details of the Full Manx Heritage Transport Festival go to
The full itinerary can be viewed online by following this link: https://www.gov.im/media/1368404/2020-transport-festival.pdf
Tickets for the Transport Festival can be purchased by following this link: https://iomrailways.ticketsolve.com/shows…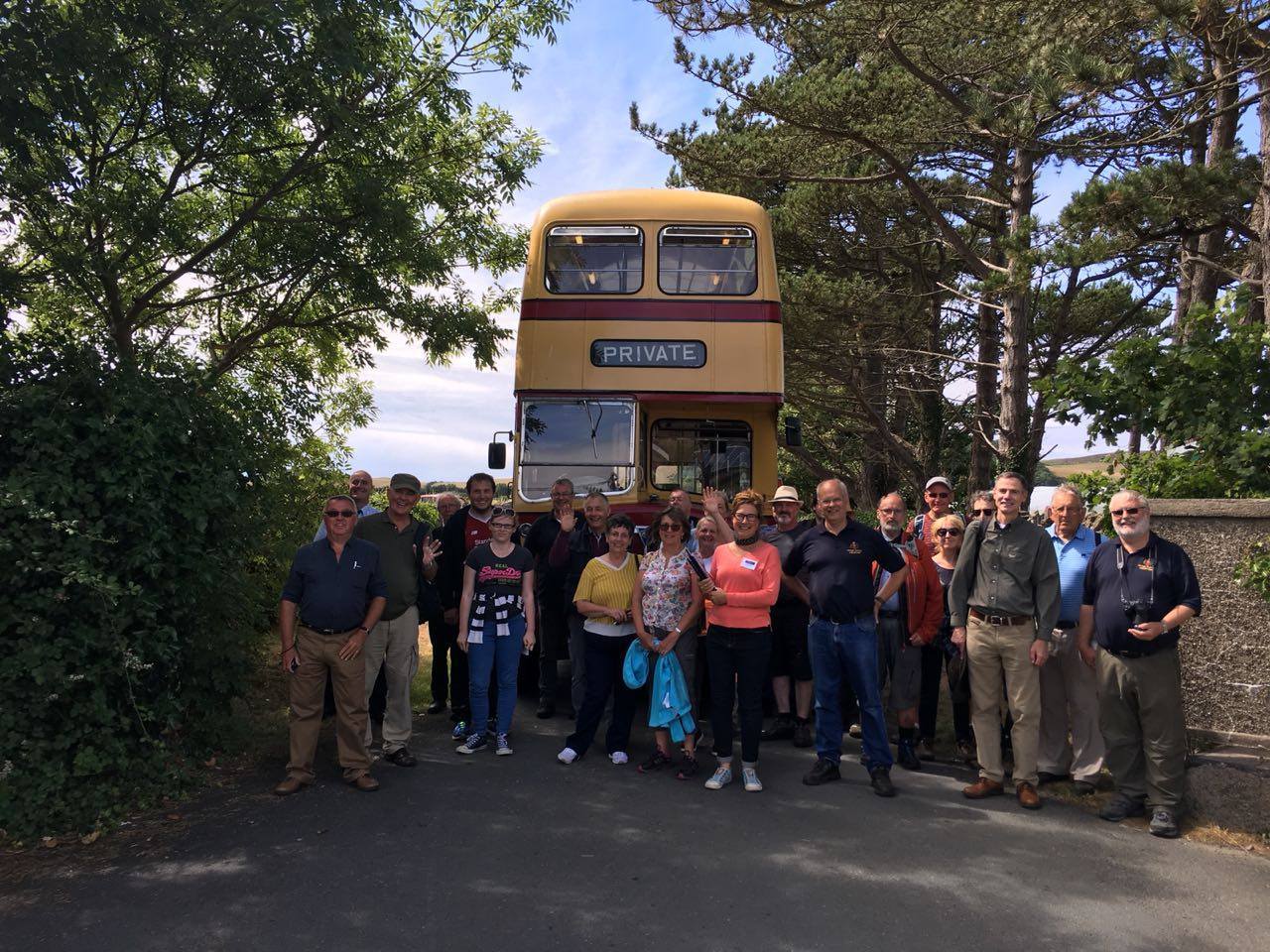 2018 Closed Lines Tour of Knockaloe with the visitors arriving to join us for a tour of the Centre for WW1 Internment. Photograph courtesy of Mike Buttell