George Kenner Tour from the Centre for WW1 Internment at Knockaloe
Our 2023 special exhibition tells the story of George Kenner and Frith Hill Camp and we are delighted to invite you to the Knockaloe Visitor Centre where Knockaloe Charity Trustee, Alison Jones, will be providing a specially tailored tour onto the site of the Camp itself exploring how Frith Hill fitted in with the internment experience of so many Knockaloe internees, and focussing on Kenner's onward internment at Knockaloe via Alexandra Palace, and what happened to him post war.
We are honoured to be exhibiting an amazing collection of paintings by internee George Kenner, originally kindly donated by his daughter, Christa Bedford, to the Surrey Heath Museum which has kindly loaned them to the Charity for our 2023 season where they are proudly displayed in our model room, and the tour starts by introducing these paintings before a guided tour through the site of Knockaloe Camp to develop the story of Kenner's internment, and how Frith Hill interrelated with Knockaloe.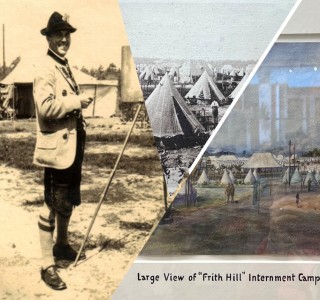 Revised Dates 'My internment' Tour Wednesday 6th September 2023 and Saturday 9th September 2023 approximate timings are as follows:
10.15 am Registration with coffee/tea
10.30 am Introduction by Charity Trustee and Lead Researcher – Alison Jones looking at George Kenner's incredible paintings of Frith Hill Camp within our Model Room
11.00am specifically tailored tour onto the site of Knockaloe camp focussing on George Kenner and the Knockaloe internees' experience of Frith Hill camp throughout WW1
(Walking tour on site estimated at around 1 ½ hours – please bring suitable clothing and footwear)
12.30pm approximate finish
£10 pp, Spaces are limited.
Please note that Tickets are complimentary for those who attended the launch event with (rained off) tour in April 2023.
Please contact Rachael Wood for tickets (please include the date you are interested in) via email : e-mail: rwood@knockaloe.im