University of the Third Age Talk
Fri, 29 Sep 2017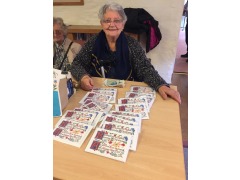 Thank you so much to the University of the Third Age Isle of Man for inviting the Charity to speak to their September meeting last week.
It is always a privilege and delight to talk to people about Knockaloe and Internment during WW1. Our 45 minute talk received a great reception, and we never fail to go away from such events having learned something new ourselves about people involved in or interned in the camp at that time. Thank you all for your support of what we are doing.
Thank you also to U3A member Midge Cringle whose fabulous Christmas Card design was being sold to raise money for the Charity.
For more information about joining U3A on the Island see https://www.facebook.com/U3AIOM