In memory of E Moore
Sat, 11 Nov 2017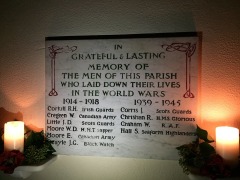 In Patrick this weekend, E Moore will be one of the names on the parish memorial, read out at 11 am, this Sunday.
100 years ago, in 1917, widower Joseph Moore of "Clybane", opposite Patrick church, received the following letter about his son:
"I am sorry to tell you that Corporal Edwin Moore (No. 130,034) died of his wounds shortly after being admitted to hospital. I know that words written by an entire stranger can be very little help, but it may help to learn that in the first place he was severely wounded that the shock practically numbed sensation, and he suffered very little. When I saw him he was so cheerful that it was hard to realise how badly hit he was. If it would have pleased God that he should live he would have been a helpless cripple with both legs amputated at the hip. I know too that you would like to hear that his battalion, though ten miles away, sent an officer to show a last token of respect to their comrade by attending the funeral.
May God have both you and your son in his keeping.
Yours sincerely
William Dick, Chaplain"
Letter wording part of a display in Patrick Church.
Original enlistment paper of 33 year old Edwin courtesy of Ancestry.co.uk
Other photographs courtesy of the charity