Exploring the site and village
Our Centre tells the story of Knockaloe Internment Camp, the many thousands of people for whom it was home between 1914 and 1919 and marks the start of your walk around Knockaloe.
The Main Drive walk takes you from the Centre in Patrick Old School, up through Knockaloe Moar, past the Garden of Barbed Wire and towards the coastal path. At any point you can retrace your steps back towards the Visitor Cetnre and then into Patrick Churchyard.
Access our guide to key points of relevance to Knockaloe WW1 Internment Camp using the QR codes along the way. For information on downloading the Knockaloe App please click here.
Pick up a leaflet on our app in the Centre for WW1 Internment at Knockaloe.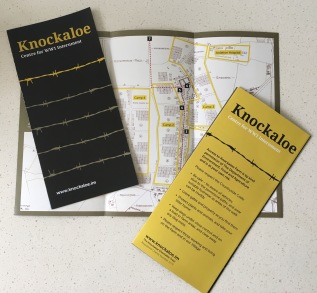 Access to the Knockaloe Farm is by kind persmission of the Department of Environment, Food and Agriculture and is at your own risk.
Please respect the Countryside Code:
Be safe - be aware of vehicles; stick to the permissive parth; and wear suitable footwear as area of the walk can be muddy
Leave gates and property as you find them
Protect plants and animals and take your litter home
Keep dogs under close control and on a lead in farm areas and clear away any dog mess
Please respect those working and living on the farm and in our village
The self-guided interactive tour from the Visitor Centre allows visitors to explore the history in the village and on Knockaloe Farm itself. With exciting plans to recreate aspects of the Camp and its huts, the Visitor experience will be continually developed to allow a greater understanding and interpretation of the camp and camp life, as well as allowing descendants real insight into where their internee ancestor lived.